Micro Factories of the Future
Karen Thuermer (Q2 2014)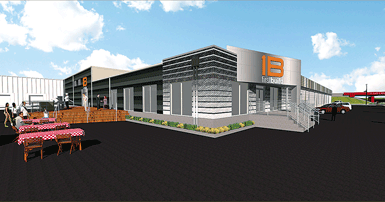 Today everything seems to be "micro-sizing," including manufacturing. With companies scrutinizing all expenses — including the cost of factory floor square footage, equipment, and energy, some executives are finding that micro production might offer advantages.
GE is one example.
In April, its appliance division announced that it was locating its first micro-factory in Louisville, Kentucky
. The factory, dubbed "First Build," is in partnership with Local Motors, an open-source hardware innovator. Kevin Nolan, vice president of Technology for GE Appliances, says the move is important as more appliance companies incorporate electronics into their products.
Industry observers contend that such small production plants will help transcend ideas into viable commercial innovations and give companies a competitive edge. For GE Appliances, this means the company can move select products to larger scale production with less risk since they are tested in this new platform first.
Local Motors has its roots in the automobile industry and is the creator of the Rally Fighter, a vehicle crafted through open-source design on Local Motor's website.
Rally Fighter is being built in regional micro-factories that employ local workers using available locally made parts
. Products can be customized according to community requirements.
Small-Dimension Products
The emphasis on localization is innovative in and of itself. John B. Rogers, Jr., president, CEO, and co-founder of Local Motors, recently stated that he expects this confluence "to trigger an ecosystem of entrepreneurship for businesses that want to build components or aftermarket add-ons."
In essence, the micro-factory is a small-dimension factory that does not exceed desktop size and produces small-dimension products. The concept was actually coined by the Mechanical Engineer Laboratory (MEL) of Japan in 1990 and since has been driven by research institutes and universities around the world.
The No. 1 advantage of the micro-factory is that it can save companies significant resources like space, energy, materials, and time.
The International Workshop on Microfactories (IWMF)
, which holds workshops each year, deems that miniaturization technologies have become a global trend supported by governments, companies, and leading research institutions and laboratories.
"The drivers for this trend lie not only in the enhanced functionality of these products but also in the more environmentally friendly production methods that can be used for their manufacture," IWMF says.
One such contributor is SRI International of Menlo Park, California.
SRI is involved in developing ant-like micro-robots that can reliably handle solid and liquid materials
, including those used in electronics. According to SRI, the micro-robots (referred to by some as "labs on a chip") are designed to create a better way to assemble components and small structures.
SRI currently is applying its micro-factory technology to the
Defense Advanced Research Projects Agency's Open Manufacturing program
. The DARPA program was created "to lower the cost and speed the delivery of high-quality manufactured goods with predictable performance."
SRI's micro-robots will be used to build smart structures with high-performance mechanics. SRI states: "Our vision is to enable an assembly head containing thousands of micro-robots to manufacture high-quality macro-scale products while providing millimeter-scale structural control."