Nihad Awad
That's not to say Awad was supportive of America's peace initiatives.
Under his leadership, CAIR consistently has taken stands against U.S. efforts to disrupt terrorist financing networks and issues knee-jerk condemnations of criminal prosecutions targeting Islamist extremists.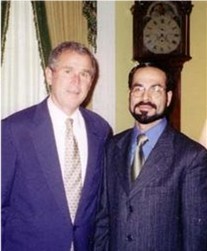 Awad with then-Texas Governor George W. Bush
"I am sure if we…put under the microscope, every major civic or political organization in this country, including the Red Cross, you will see that some dollars went here and there in some country, but we don't shut down the entire operation of the Red Cross…"

[25]