Cardinal Müller what happened with the Pope?
Article by Leo Zagami
Cardinal Gerhard Ludwig Müller was fired from his position as Prefect of the Congregation for the Doctrine of the Faith (CDF) where he was working since his appointment by Pope Benedict XVI in 2012. He was elevated to the rank of Cardinal in 2014 by Pope Francis, but he apparently got on Bergoglio's nerves quickly, because he opposes pedophilia and the Jesuits liberal agenda for the CDF.
The following information that will help us understand more comes from the report of a trustworthy German source, who spoke to the site OnePeterFive, on condition of anonymity. He quotes an eyewitness who recently sat with Cardinal Müller at lunch in Mainz, Germany. During that meal, Cardinal Müller is alleged to have disclosed in the presence of this eyewitness, shocking information about his final meeting with the Jesuit pope, during which he was ultimately informed that his mandate as Prefect of the CDF would not be renewed and hewas basically fired.
According to this report, Cardinal Müller was called to the Apostolic Palace on 30 June 2017, and he arrived with his work files, assuming that this meeting would be a usual working session. The Pope told him, however, that he only had five questions for him:
Are you in favor of, or against, a female diaconate? "I am against it," responded Cardinal Müller.
Are you in favor of, or against, the repeal of celibacy? "Of course I am against it," the cardinal responded.
Are you in favor of, or against female priests?
"I am very decisively against it," replied Cardinal Müller.
Are you willing to defend Amoris Laetitia?
"As far as it is possible for me," the Prefect of the Congregation for the Faith replied: "there still exist ambiguities."
Are you willing to retract your complaint concerning the dismissal of three of your own employees?
Cardinal Müller responded: "Holy Father, these were good, unblemished men whom I now lack, and it was not correct to dismiss them over my head, shortly before Christmas, so that they had to clear their offices by 28 December. I am missing them now."
Thereupon the Pope answered
: "Good. Cardinal Müller, I only wanted to let you know that I will not extend your mandate [i.e., beyond 2 July] as the Prefect of the Congregation for the Faith."
Without any farewell or explanation, the Pope left the room, leaving
Cardinal Müller
in utter astonishment. He stood in shocked silence, waiting for the Pope to return, but strangely enough, it was Archbishop Georg Gänswein, who had to force him to leave the meeting, completely shocked by what had just occurred.
Cardinal opposing Pope Francis dies under mysterious circumstances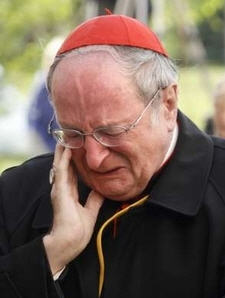 Cardinal Joachim Meisner
(25 December 1933 –
5 July 2017
)
Article by Leo Zagami
As the tension rises in the Vatican, we may have the first victim of the internal conflict against the pedophile network, that now rules the Church with Pope Francis. His name his Cardinal Joachim Meisner, the former Archbishop of Cologne, a strong defender of the Church's doctrine and orthodoxy, who suddenly died at the age of 83, on the 5th of July 2017. He was considered a leader of the conservative wing of the German episcopate, and was one of the four cardinals who orginally presented the controversial letter "Dubia" to Pope Francis in September 2016, seeking up until June 2017, a clarification on the modernization of the Church in matters of faith, and the infamous Post-Synodal Apostolic Exhortation issued by Pope Francis called, Amoris Laetitia, without ever receiving an answer.
In an interview given on the 5th of July by Cardinal Gerhard Ludwig Müller, now ex-Prefect of the Congregation for the Doctrine of the Faith, Müller said he spoke with Cardinal Meisner the night before he died. As the Passauer Neue Presse reports:
Müller had spoken over the phone with the former Archbishop of Cologne [Cardinal Meisner] the previous night [before he died the next morning]; and they also had spoken about the non-renewal of his former position. Meisner had shown himself to be "deeply saddened" by this dismissal.
"That moved him personally and wounded him
–
and he
considered it to be a form of damage for the Church
," as the Curial Cardinal [Müller] himself described the reaction of Meisner and l well-informed sources within the Vatican say that perhaps Cardinal Meisner "died of a broken heart." Or was he killed in traditional Vatican fashion with a poison coffee?
In this new interview Cardinal Müller also commented and sharply criticized the conduct of Pope Francis with regard to his dismissal from the CDF, but it was the phone call with Cardinal Meisner, and his sadness for what happened to Müller after the Jesuit take over of the CDF, that seems pretty suspicious to me and other Vatican analysts. Interestingly enough, Archbishop Georg Gänswein, personal secretary of Pope Emeritus Benedict XVI, and Prefect of the Papal Household very close to Pope Francis, and Obama, and a member of the Congregation for the Doctrine of the Faith since 1996, also happened to meet Cardinal Meisner shortly before his death. Only a coincidence? Of course not, nothing is a coincidence in the Vatican, but a well orchestrated maneuver.
According to the Passauer Neue Presse, Gänswein visited Bad Füssing (near Passau), on the 2nd of July, in order to give a talk at the "Bad Füssinger Gespräche" [Bad Füssing Talks]. Cardinal Meisner had been staying in Bad Füssing for a period of time for vacation, as his health was not considered at all a problem. So the two influential Vatican figures met in person there, but unfortunately, no details have been revealed about their conversation that eventually led to Joachim Meisner's death, a mystery that needs further investigation, as it seems Pope Francis is clearing up the scene from any unwanted opposition before his summer vacation, and Meisner was on his hit list for a long time.
Source: Leo Zagami